Earlier today, TechCrunch reported that Amazon has agreed to acquire Denver-based Internet of Things platform 2lemetry. Multiple sources report independent confirmation from Amazon, but details have yet to be disclosed and no far neither company has made the news public on its own websites or social media channels.
2lemetry bills itself as the "plumbing" experts of the IoT. Its ThingFabric platform connects devices and collects data at a massive scale suitable for large enterprises. Earlier this year the company raised $4 million from Salesforce Ventures and announced 2lemetry Integrate, which analyzes and filters ThingFabric data before coordinating with Salesforce and other business databasing platforms.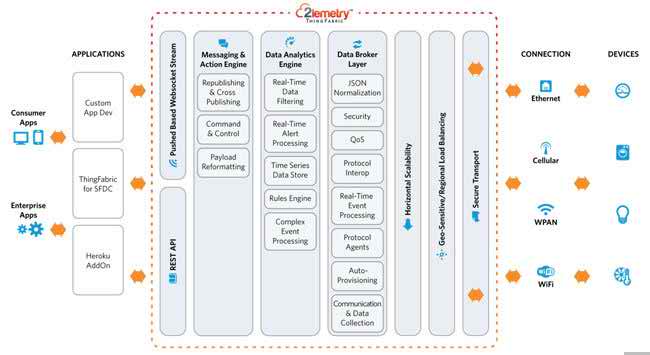 Amazon already offers a wide variety of cloud-based enterprise software through Amazon Web Services. In December 2lemetry announced integrations between ThingFabric and a number of AWS products.
An example on the company's technical blog shows how the service can integrate streaming MQTT data directly into Amazon's data monitoring Redshift service.
"They can leverage 2lemetry's ThingFabric platform for managing streaming sensor data, transformations and basic publish / subscribe patterns, but now bridge to their warehouse solution directly."
It's likely the acquisition is meant to bring that development in-house as Amazon connects AWS (more integrations on the 2lemetry technical blog for Lambda,DynamoDB, Redshift and Kinesis) processing, and data storage capabilities ever more closely to the IoT opportunity.
Related: IoT Investments, IoT Platforms