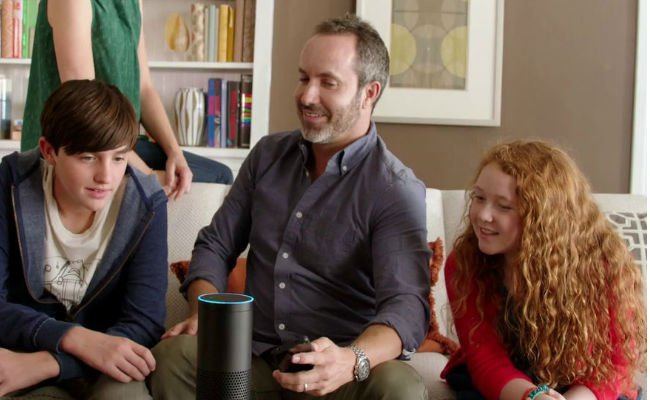 Amazon wants you to talk to your technology, and it's putting its money where its digital mouth is, so to speak. The $100 million Alexa Fund, announced last week and named for the cloud-based language processing service that powers Amazon's Echo device, will support hardware and software products that put voice at the center of the user experience.
The ability to control technology with through natural, everyday language — without users having to tailor their speech to restrictive, recognizable patterns — is at the center of the push toward "ubiquitous computing," which takes advantage of the increasing connectivity between the digital and physical worlds brought on by the Internet of Things. Devices that are always listening for an activation phrase, like Echo or newer Motorola phones with the Moto Voice app that integrates with Google Now, can provide seamless, hands-free access to information and control over other connected devices and appliances.
As Amazon seeks to catch up with Google Now and Apple's Siri, it's looking beyond the smartphone to the many other hardware products that could incorporate voice commands. Starting next month, Alexa will be opened to third-party developers — and already the seven companies receiving the first slice of the Alexa Fund are using the free software kit and APIs in their own smart devices and apps.

The companies involved in the first round of funding include:
"Any device with a speaker, an Internet connection, and a microphone can integrate Alexa with just a few lines of code," said Greg Hart, Amazon's VP in charge of Echo and Alexa, in a statement. That means lots of other smart devices will be able to do exactly what Echo does, and Echo (or those other Alexa-powered devices) will be able to pass commands to and retrieve information from any device, app or web service that's been integrated with the Alexa Voice Service.
By providing Alexa for free, and putting up a lot of cash to spur innovation around voice-activated computing, Amazon is enabling a new wave of products and services — some of which will no doubt be sold through Amazon's own web store, while others could turn into lucrative acquisition targets down the road. But it's also investing generally in a smarter, more seamlessly connected future.
"Experiences designed around the human voice will fundamentally improve the way people use technology," said Amazon founder and CEO Jeff Bezos in a statement announcing the Alexa Fund. "Since introducing Amazon Echo, we've heard from developers, manufacturers, and start-ups of all sizes who want to innovate with this new technology. … We're eager to see what they come up with."
Related: Ubi