Helium, a startup that's been quietly working on long-range, low-bandwidth connectivity for the Internet of Things, yesterday announced a series B funding round worth $20 million. The round was led by GV(formerly Google Ventures), and general partner Andy Wheeler will join Helium's board. Khosla Ventures, FirstMark and Munich RE/Hartford Steam Boiler Ventures also joined the round.
When we first reported on Helium late last year, the company had just closed a $16 million series A round and appeared to be preparing to deploy "bridge" hardware that could blanket a city in wireless coverage for large numbers of devices that only need to exchange small amounts of data in low-power bursts. The new investment suggests that the company's early work has continued to impress folks in Silicon Valley.
"The Helium team has solved many of the issues that have tripped up previous industry attempts at building an IoT platform," said Wheeler in a press release. "The Helium platform has impressive technical architecture, and is easy to manage from both the edge and the cloud."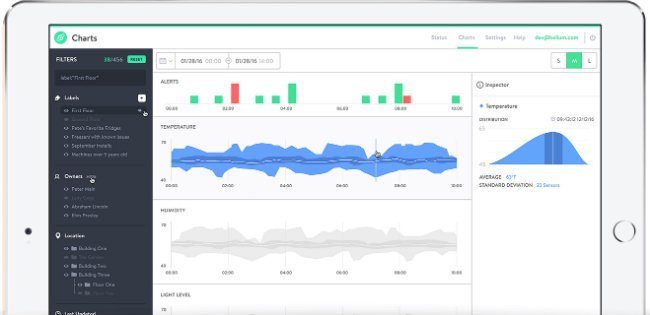 Alongside the funding news, Helium announced a new environmental sensor, Helium Green, and a web and mobile platform, Helium Pulse, for managing the sensors and collecting their data. The Green sensor measures typical ambient stuff like temperature, humidity, barometric pressure, light, and motion (via a passive infrared sensor). It joins Helium Blue, which is designed for industrial refrigerators that store food or medicine, and measures temperature and whether the fridge door is open or closed. The sensors run for three years or more on a pair of AA batteries, and connect automatically to a Helium base station that can serve up to three city blocks.
In an interview with VentureBeat, COO Rob Chandhok said Helium's sensors are truly "smart" in the sense that they process data locally rather than sending everything to a cloud server.
"We can compute data in the sensor for a lot less power than sending that data over a radio," Chandhok told VentureBeat. "This is important when you want to send small amounts of accurate data from 10 million different sensors. We want the data to be valuable."
That kind of "edge" processing, combined with low-power connectivity, is designed to allow Helium to scale way, way up — creating systems to monitor entire office buildings, supply chains, cold-storage facilities and other industrial applications. The company says it's already running trials with customers in the healthcare, food and beverage, transportation and grocery industries.
Check out the datasheets on Helium's latest offerings to learn more.
Related: Actility, Link Labs, SigFox, ColdTrace, PharmaWatch