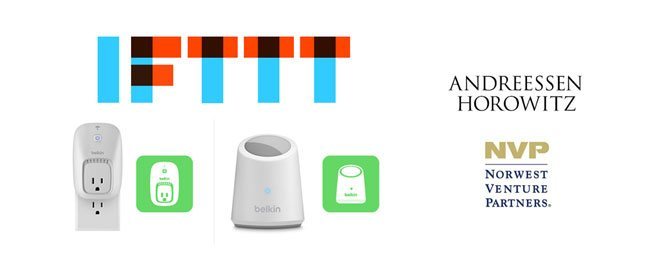 Startup IFTTT (rhymes with "gift") has raised $30 million in a series B funding round from new investor Norwest Venture Partners and returning investor A16Z, the company announced late last week. Bringing their total funding to $38.5 million since their launch in early 2012.
Short for "If this, then that," IFTTT lets users web services and increasingly a large number of connected devices interact with one another in novel ways. Users create and upload "recipes" that can do everything from tweeting whenever a wifi-connected door lock is opened, to letting the user's alarm clock switch on their coffee machine, toaster, and kitchen lights and any personal variation that you would like to add in between.
IFTTT has been adding support for connected devices (with support for familiar faces Nest, Wemo, SmartThings, Withings), apps, and web services at a rapid clip, and now has more than 120 "channels" which users can draw from in creating recipes. For early adopters of the Internet of Things IFTTT has provided an approachable bridge between devices and software that would otherwise be cloistered by purpose-built apps and the limited uses imagined by their designers.
"When we started the company we were thinking very long term; what's on the service right now is just the tip of the iceberg," IFTTT co-founder Linden Tibbets told TechCrunch. "We always had this idea of IoT in mind, but the speed with which that happened, because of things like Kickstarter and the general excitement around the opportunity even in the last 12 months, has turned into a roar."
In a blog post, Norwest's Goldman explained that the rapid growth of the IoT market makes a service like IFTTT an obvious choice for investment.
"With each new device, the number of connection possibilities to all the others grows exponentially, so waiting for each new device-maker to create, enable, and maintain those connections is futile. We want the connectivity and data-sharing now, and we need it to be simple and manufacturer-agnostic," Goldman wrote.
With this infusion of cash behind it, IFTTT plans to double its staff of 21 in the coming months. The company's focus will be on developing a revenue stream by offering premium features to users and expanding support for the still-in-beta channel system.
It will be interesting to see how the company can leverage its early mind share of physical mashups with consumers into a scalable platform outside of simple one to one recipes, which will quickly become unmanageable outside of a few connected devices.
Thoughts on the company's potential as a real IoT player? Our forum threads are now open to continue the conversation.