Kinoma, a project developed by Marvell Technology Group, is an Internet of Things hardware prototyping kit for the rest of us.
Sure, there are lots of development kits out there already — but most are raw boards and components that have to be soldered together, and that might scare off all but the most hardcore tinkerers and professional hardware developers. Kinoma reduces the tangle of wires by integrating core components like a CPU, touchscreen, speakers and microphone, Bluetooth and WiFi radios, AA battery, and USB and SD card ports. It also has connectors that can accept a variety of external sensors.
On the software side, Kinoma is powered by JavaScript and comes with a development environment that makes it easy to both program the prototype to talk to the sensors you've connected, and build companion apps for iOS and Android. The team's GitHub page has plenty of software examples to get you started.
All that means Kinoma is much more of a plug-and-play prototyper than many existing kits. Early adopters have used it to create everything from games to robots to aquarium water quality monitors.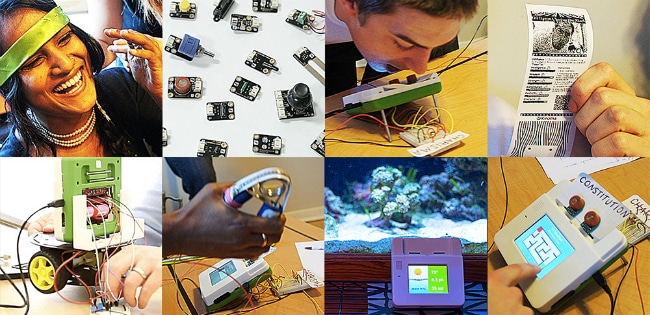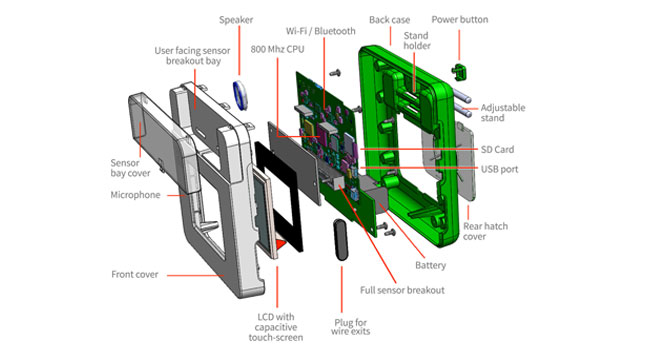 Kinoma wrapped a modest-but-successful Indiegogo campaign earlier this month and is now taking pre-orders through the website, with plans to ship in September 2014. Of course, with the resources of a large semiconductor manufacturer behind them, the Kinoma team didn't need to rely on crowdfunding — it seems it was more a way to test the waters and start some word-of-mouth marketing on the road toward production.
To learn more, see the video below.
Related: IoT Prototyping hardware, Node.js and the IoT