Smart home sensor company Notion announced a $2 million funding round yesterday by way of an interview with TechCrunch. Investors included Draper Nexus Ventures, Gabriel Investments,Galvanize Ventures, Foundry Group Angels and TechStars (from which Notion graduated in 2014).
The company raised $280,000 on Kickstarter in October, and is on track to deliver its multi-function sensors in July. Beta-test units are going out to select backers this month.
Each device, which takes the form of a small white disc, is actually eight sensors in one: temperature, water, acceleration, motion, proximity, light, sound, presence, and vibration. These functions can be used separately on in staggering numbers of combinations to track all sorts of things around the home. The sensors talk to an Internet-connected gateway that can push smartphone notifications about anything the user cares to monitor.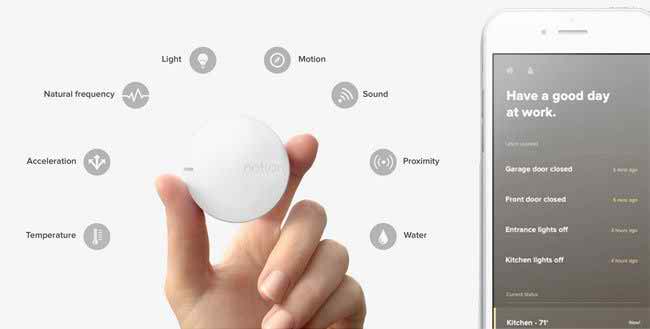 CEO Brett Jurgens told TechCrunch that the investment would help Notion take the next steps past crowdfunding as it collects pre-orders and prepares for a general launch. "The Kickstarter funds cover all the Kickstarter expenses, the tooling, all of that kind of stuff and for us, really, this [new funding] is to help support that launch and to help establish our efforts post our Kickstarter shipments," he said.
Jurgens also said the company will be integrating its products with smart home automation platforms like Nest and IFTTT this summer, and plans to release an API so that developers can find creative new uses for Notion's sensors.