Sigfox, a French company building wide-area wireless networks to liberate the Internet of Things from traditional mobile carriers, today announced the largest VC funding round its country has seen to date: a $115 million Series D round.
New investors in this round include Telefonica, SK Telecom, NTT DOCOMO Ventures, Elliott Management Corporation, GDF SUEZ, Air Liquide and Eutelsat; previous investors Elaia Partners,iXO PE, Partech Ventures and Idinvest also made new contributions. The company has raised a total of $148.4 million, including three previous rounds, since it was founded in 2009.
Sigfox operates much like a mobile phone network, using low-power radios and open spectrum to provide long-range coverage that technologies like Wi-Fi can't match. Many Internet of Things products and services have so far piggybacked on existing mobile carriers, but Sigfox is betting that a parallel network devoted exclusively to the IoT is a better and cheaper solution for transmitting the small, sometimes infrequent data packets generated by connected devices.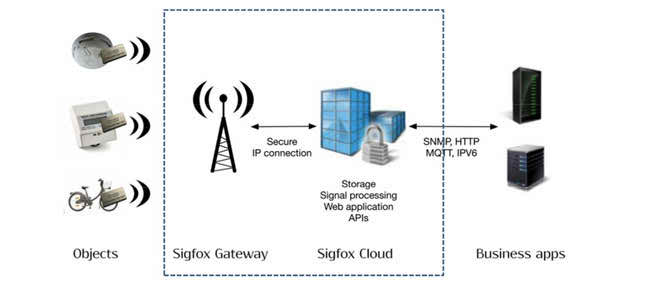 The company has worked with telecom partners to deploy networks in a number of early-adopter cities across Europe. With the new funding and new global partnerships, Sigfox plans to expand first into the U.S. and then to Asia and new European markets — and appears poised to grab a substantial lead on competitors like Link Labs, Helium and Neul.
Little wonder Sigfox took the People's Choice award for Network Services in Postscapes' 2014 IoT Awards.
Related: IoT Investments