WigWag is a new rule based home automation system created by Ed Hemphill and his Austin based team that wants to empower your environment to "listen, react & talk to you".
The WigWag platform is driven by a main gateway device "WigWag Relay" that is outfitted with WiFi, Zigbee, and Z-Wave (Bluetooth is available via a USB dongle) to enable "when this, then that" style communication with WigWag hardware and other 3rd party connected products that you have in your home.
The team is launching their product line with a lighting control device called Glowline and a WiGWag Sensor Block that can measure and monitor humidity, temperature, sound, vibration, motion, contact, and ambient light levels. The AA powered device comes out of the box with 2 ports for sensor expansion options as well as an electronic relay and infrared light for additional device control capabilities (i.e your TV, garage door, etc).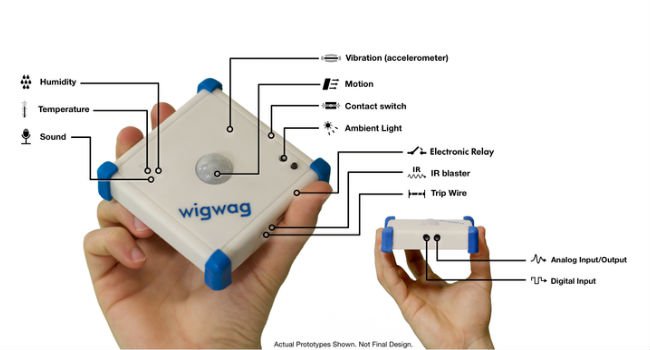 For developers and Makers the company will be releasing a development kit (Raspberry Pi shield, Arduino shield and Experimental board) providing 6loWPAN connectivity and DeviceJS, a Javascript development environment the team created called for easy rule programming and control. The WigWag hardware is built on the open source embedded operating system Contiki and the team is planning to release their development boards, DeviceJS and some additional firmware under an open source license.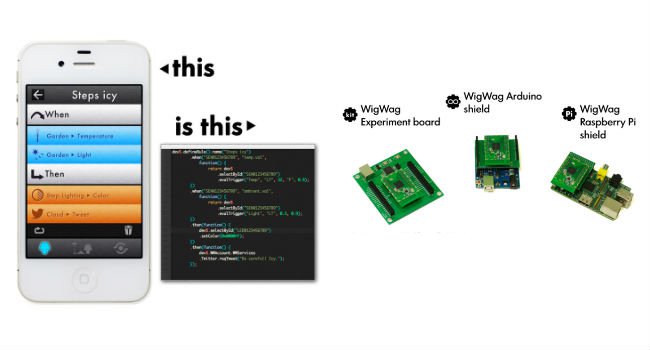 More details about the WigWag system can be found at: Wigwag.com or by watching the team's product pitch video embedded below.
Additional: Kickstarter Page, TechDirt

Related: Revolv, SmartThings, NinjaBlocks