LG's SmartThinQ line includes a variety of appliances that can be controlled by a smartphone. But recognizing that the "smart home" is about more than wireless fridges, washer/dryers and ranges, the company is planning to add a multifunction smart hub device to the mix.
Announced in December and exhibited in January at CES, the SmartThinQ Hub bears more than a passing resemblance to Amazon's voice-controlled Echo device. It's roughly cylindrical, boasts a speaker with which to announce notifications and play music, and collects data from other connected devices to become the main point of contact for controlling the smart home.
Unlike Echo, it doesn't take voice commands. Interaction with the hub takes place mostly through a smartphone or tablet. LG's hub does have a small LCD screen, though.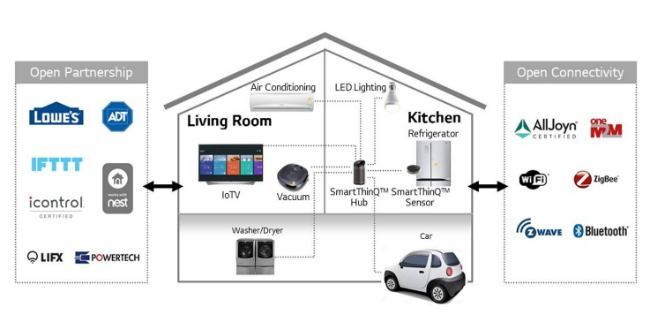 The SmartThinQ Hub will draw on the AllSeen Alliance's AllJoyn framework to connect with a variety of devices over Wi-Fi, Bluetooth and Zigbee. LG is also opening it up via partnerships with the likes ofLowe's Iris, Nest, LIFX and others, and via compatibility with automation services like IFTTT.
Pricing and a release date have yet to be announced.
Related: Connected Home Systems, Oomi, Wink