Let's not beat around the bush: There's finally a Roomba for your lawn.
Robomow is a compact, autonomous, Bluetooth and cellular GSM connected lawnmower. Like the famous vacuum it resembles, the mower lives in a charging dock and makes scheduled excursions to cut the grass. It's designed to take care of edging, and will mow right up to the borders of its allowed roving area as determined by a wire strung around the perimeter of the lawn. It even knows when it's raining with an on-board sensor, and will return to its base station to wait out the storm.
Now, if your first thought is, "How long until this thing mulches a child or small animal?", you're not alone. Robomow incorporates several safety features. If it's lifted up or tilted off the ground, the blades stop immediately. They also stop when Robomow bumps into a hard object and pauses to change direction. For added safety and theft prevention, users can set a child lock and a pin code to restrict access.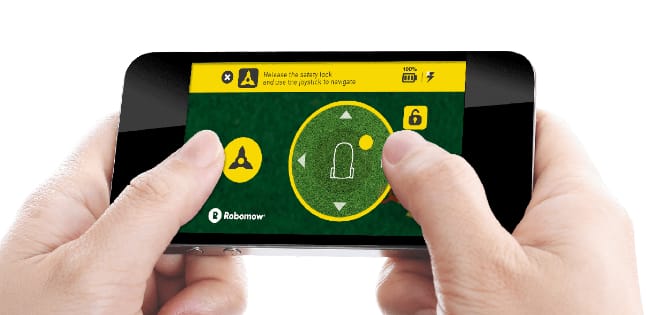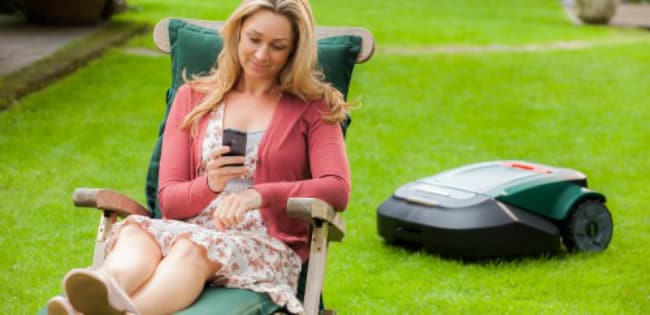 Robomow comes in several models to match different-sized lawns. It's a mulching-style mower, which means it chops grass up into a fine powder instead of collecting clippings. Its noise output (heard in this video) is only about 70 dB, more like the purr of a dishwasher than the roar of gasoline-powered mowers.
Though Robomow doesn't work quite as fast as a human, it's hard to beat the convenience of never, ever mowing the lawn again. Well, almost never: Apparently the mower will occasionally have trouble with small areas, and in that case you can use the mobile app's remote control feature to do touch-ups.
Which is still way better than pushing a fume-spewing, tooth-rattling behemoth all afternoon. See for yourself in the video below.
Related: Smart Irrigation Controllers