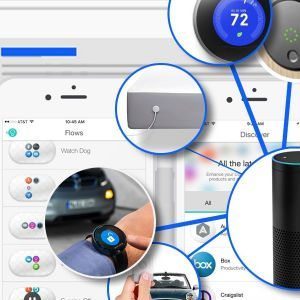 Find and compare the best Internet of Things devices. Narrow your choices and explore the top consumer products and vendors for your connected home.
The Internet of Things is transforming every corner of life: the home, the office, city streets and beyond. IoT products give us greater control over door locks, lights and appliances; offer insights into resource consumption habits; streamline business processes; and better connect us to the people, systems and environments that shape our daily lives.
Whether you're a homeowner looking for the best products to start building your connected life, or a business leader looking to take your company to the next level — this is the place to begin. We've collected the best and most popular options the IoT has to offer, from smart home devices to enterprise platforms to the software and tools you need to build your own smart, connected products.
The following Channel Guide will help you:
Discover popular types of connected products and projects in the IoT marketplace
Filter based on product type, use case and market segment (smart home, enterprise, etc.)
Find reviews and learn which devices will work with your Android or iOS device or integrate with your existing smart home hub or IoT platform
Many "entry-level" IoT products fit smoothly into the patterns of daily life by simplifying routine tasks. Finding your keys, unlocking your door, turning lights on and off — these and other habits can be automated with sensors and intelligent software. A truly smart home is full of products that know your preferences, anticipate your needs and respond dynamically to your behavior, so you can spend less time micromanaging your house and more time living in it.
Featured Consumer Convenience Products
Looking for a quick solution in one of these product categories? Try our featured suggestions.
August Smart Lock Pro 3rd Generation
Highlights
Check your doors status when you are away from home

Provide key codes to friends and family and use auto lock feature when you leave the house

You need the Connect Wifi Bridge accessory device ($79) to control it remotely
Ellipse by Lattis
Highlights
Automatic keyless entry using Bluetooth

Backup: Key in a personal code of up to eight characters to lock or unlock

Built-in rechargeable battery using solar
Tile
Highlights
Tile's Bluetooth range is up to 100 ft. Bluetooth is most effective at the 30 ft range, depending on the environment.

Loudly ring a lost item from the app and find it by sound.

Find your phone. Press Tile to make your phone ring—even if it's on silent.
Quick Links
Smart Energy & Resource Savings
We all know we should try to use less electricity, water and other resources, but actually changing our habits can be hard — especially when we can't see the immediate impact of our actions. A number of IoT products take aim at resource use by tracking and displaying real-time data to users, and by automating the operation of lights, appliances and heating and cooling systems to help reduce consumption.
Featured Smart Energy & Resource Savings Products
Looking for a quick solution in one of these product categories? Try our featured suggestions.
GreenIQ Controller
Highlights
Integrations with PlanLink, Parrot, Koubachi, Netatmo weather and TORO® Precision soil moisture sensor

6 irrigation zones Supports 24VAC valves

Integrates with Echo, IFTTT, Nest, Cresteon, Muzzley
Want to know what's hot in the IoT marketplace? Here are a few of the most popular products in any category.
Amazon Echo
Highlights
Seven microphones and beam forming technology so it can hear you from across the room

WiFi and Bluetooth Connectivity

Controls lights, switches, and thermostats with compatible WeMo, Philips Hue, Samsung SmartThings, Wink, Insteon, Nest, and ecobee smart home devices
IoT Enterprise Categories
The IoT has a lot to offer businesses, both for tech firms looking to get in on the actions and for the numerous industries that are being transformed by the injection of smart, connected technology into manufacturing processes, supply chains, customer engagement, performance tracking and other areas. Today's companies need to take full advantage of IoT devices, platforms and tools to build business models that will thrive in a more connected world.
Featured Enterprise Companies
Looking for a quick solution in one of these product categories? Try our featured suggestions.