There's nothing like a good night's sleep, and the Withings Aura promises a high-tech solution to make sure you get your Zs. It's the latest in Withings' line of connected health products that includes scales,activity monitors, and blood pressure cuffs.
Aura consists of two devices, connected through a smartphone app. One is a thin sensor pad that lays across your mattress at about chest height. It senses very small motions, like breathing and heart rate, and also the large motions created by tossing and turning. The other is a combination device that can replace your alarm clock and bedside lamp, and also includes a Bluetooth speaker.
At bedtime, the multicolor LED lamp shifts into a spectrum of light known to stimulate the production of melatonin, a hormone that helps regulate our sleep cycle. When it's time to wake up, the lamp shifts again into the melatonin-suppressing spectrum. Meanwhile the speaker can produce soothing noises to gently ease you in and out of sleep.
Sensors in the bedside device record ambient light and sound levels, which it can compare with your movement, breathing, and heart rate to determine how soundly you're sleeping throughout the night and identify disruptions or patterns. All this data, of course, is available on your phone so you can further optimize your sleep schedule.
Although Aura was unveiled this week at CES, it won't be available until spring 2014. And as CNET noted in their coverage, this is a product that you'd probably want to try for yourself before deciding whether it really works or not. The scientific evidence that melatonin is effective for improving sleep is only so-so, according to the National Institutes of Health. But data from the motion-tracking and other sensors could provide useful insights for any sleeper.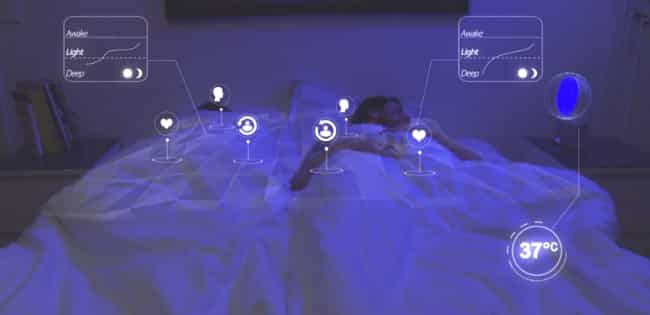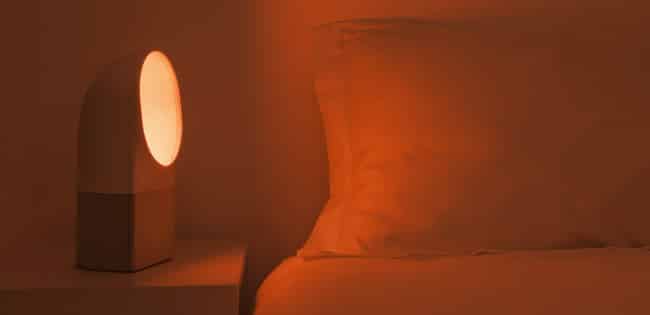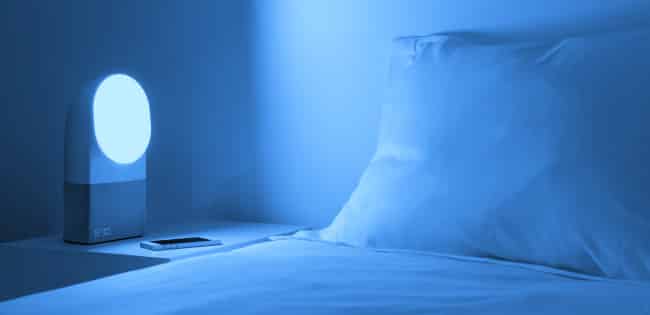 See this BBC article for more details on the technology inside Aura, the link between light and melatonin, and a roundup of other sleep-improving devices on display at CES.
Related: Sleep tracking devices, Beddit