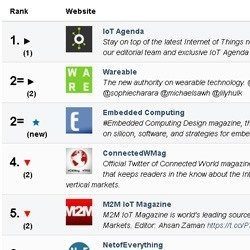 IoT Top Blogs and Experts
The world's top blogs and people creating and tracking the IoT
Some of the best IoT blogs covering everything from new connected products, to DIY projects to business news.
We have compiled a list of 100 people influencing the topic on a daily basis whether through their evangelizing, standardizing or through their own companies. Are they in your online rolodex yet?
Security
SecurityLedger - An independent security news website that explores the intersection of cyber security with the fast-emerging Internet of Things.
Individuals
David Blaza: IoTBlog - This blog looks at the reality and myths of the Internet of Things aka Intelligent Systems.

DIY
See: IoT DIY Guide